Discover three easy ways to enjoy digital music anywhere in your home
A network music player is a device that connects you to a virtually limitless assortment of music. What you can play varies from model to model, but most let you play tunes from:
your iTunes® library or other types of music files stored on your computer, smartphone, or tablet
thousands of free Internet radio stations
a variety of online music subscription services that offer intriguing ways to discover and mix songs
Think this is something only a geek could love? Think again.
The best of today's network music players are ready to rock the moment you walk in the door. You don't have to turn on your computer or insert a CD. Simply fire up an app on your phone or tablet and tap the screen a few times. And there you have it – sweet-sounding music to soothe or inspire you.
Music players vs. media players
This article will help you shop for products designed for music. It's not about the multi-purpose network media players built into TVs, Blu-ray players, and surround sound receivers. You can certainly use those to play music, and they may well meet your needs for tunes in your home theater room. But they're impractical in many listening locations. And casual users may find them difficult to operate.
Where do you plan to listen to network music?
Is the room you're putting a player in a place in which you want to relax and really focus on the music? Will you ever want to play it at high volume? Or are you looking for low-key background sound in a kitchen, bedroom, or workshop? Your answers to these questions will help you decide which of the three groups below make sense for you and which product best meets your needs.
1. Compact, all-in-one solutions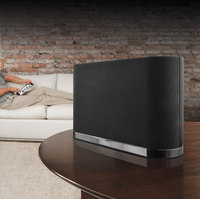 "Using Apple AirPlay® (a feature of iTunes), you can stream music from your computer, iPod touch®, iPhone®, or iPad® to the iHome iW1"
The all-in-one players listed below have the amplifier and speakers built-in. They're perfect for background music in small rooms. Some models play surprisingly loud and clear. For a dorm or apartment, they may be all the stereo you need. Their portability is a plus, too. You can easily carry your player out onto your patio, deck, or balcony.
Sony NAS-SV20i
WiFi iPod/iPhone speaker dock
iHome iW1
AirPlay portable wireless speaker system
Sonos® Play:3 (S3)
Compact wireless music player
Sonos® Play:5 (S5)
Wireless music player
Klipsch® Gallery™ G-17 Air
Powered speaker system with AirPlay
Bowers & Wilkins Zeppelin Air
Powered speaker system with AirPlay and iPod dock
---
2. Compact player/amplifiers – just add speakers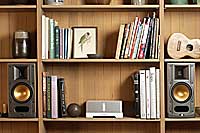 "You don't need a receiver, a CD player, and shelves full of discs. All you need is a network music player with a built-in amp and a pair of speakers. Goodbye clutter."
The models listed here are relatively compact, though not exactly portable, players. Each comes with built-in amplifier. Add a pair of speakers, and you're set. You can expect better sound all around and the capacity to play your music louder.
Sonos® CONNECT:AMP
Powered player for Sonos multi-room music system
Denon RCD-N7
AM/FM/CD/Internet radio receiver with iPod dock and Wi-Fi
Marantz M-CR603
AM/FM/CD/Internet radio receiver
---
3. Component network music players
The products in this group don't include amps or speakers. You could keep things simple by adding a pair of powered speakers. Or you could add one of the models listed below to a full blown hi-fi system.
Sonos® CONNECT
Non-powered Sonos ZonePlayer
NAD C 446
Hi-fi network music player
Marantz NA7004
Hi-fi network music player
Source: https://www.crutchfield.com/S-nEHkUodKb99/learn/how-to-choose-a-network-music-player.html